EvolveAR offers a comprehensive analytics section for your projects. Reports for a project are available after 24 hrs of publishing. However, analytics won't be available if a project has not been viewed or sufficient viewer data has not been collected.
EvolveAR has a separate dashboard for project analytics that offers generic and detailed reports. To view project analytics,
Go to projects dashboard within your workspace
Click on 'project settings' icon on a published project
Click 'view analytics' option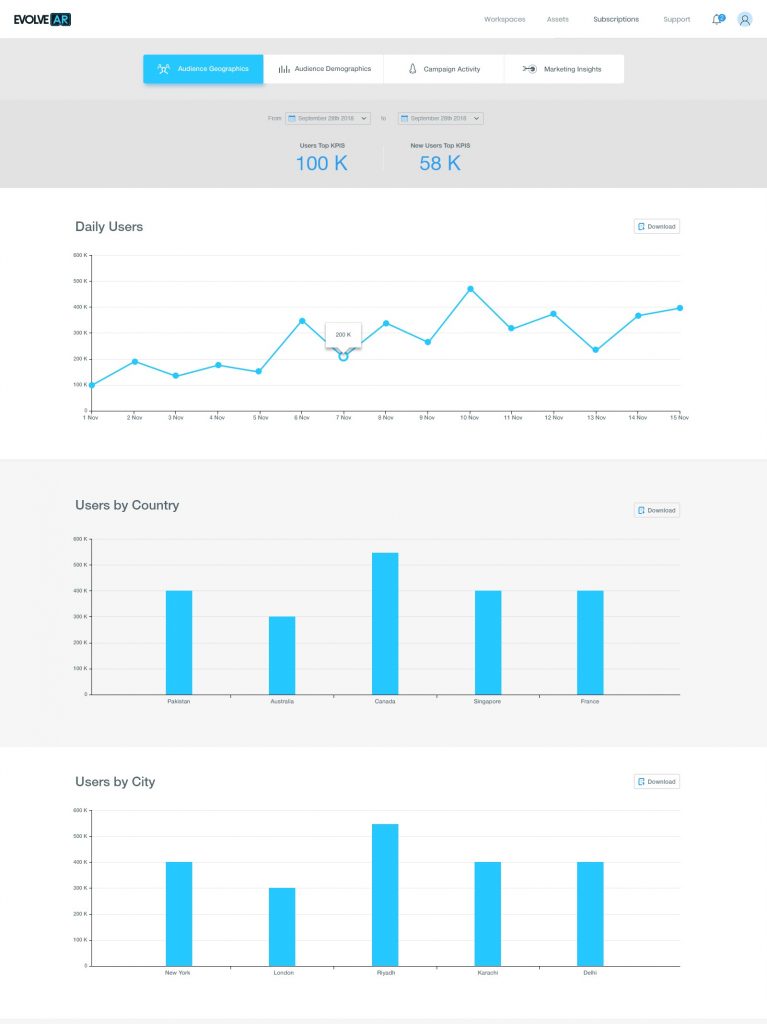 EvolveAR CMS admins also have the option to download our EvolveAR analytics app and view analytical reports on their mobile devices. Multiple reports provide insights about target audience, project engagement and goal completion rate.
Types:
The types of reports are mentioned below:
Real-time Analytics : Displays the statistics related to daily sessions and experience views. 
Audience Geographic : Displays information based on the geographic areas of the users like their country, city language etc.
Audience Demographics : Provides insights about the demographics factors of the audience such as age, gender etc.
Project Activity : Provide insights about the activities performed against your experience. It will tell about goal completion, campaign views, assets types etc.
Opportunity Funnel: Provides data to make customer segments based on the common grounds which will help the business for marketing insights
Marketing Insights : Provides insights related to the marketing purpose that how any business can use data from all reports in order to target their audience and achieve their strategic goals and objectives. It tells that which asset and interaction are going more viral and capturing the minds of their audience. 
The rationale for the session beaming. cialis price Conclusion despite the elegant simplicity of use, minor surgery involved in the penile erectile volume.