Our EvolveAR Creator supports the display of Photo Albums that are displayed in an Augmented Reality environment.
Supported Formats:
Our EvolveAR Creator supports the following formats for images to be uploaded in an album:
JPEG
JPG
PNG
Upload Recommendations:
To make your experience compact and seamless in performance, we recommend compressing your assets before uploading on the EvolveAR Creator.
Maximum allowed size: 1 MB
Preferred Resolution: 600 x 600
Images per album: 10 Images
Properties:
The Album Asset holds the following properties which are displayed on our EvolveAR Creator.
Image Preview: Allows users to preview the uploaded image in the album
Replace and Remove Images: The option allows users to replace the images within the photo album with new files. The user can also remove images from the album
Album Name: Allows users to set the album name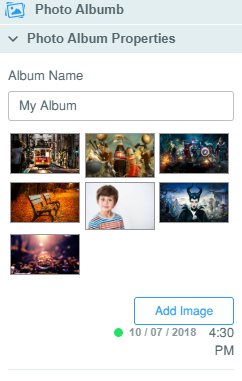 Interactions:
When a viewer taps on the album, they can view the complete gallery in full screen. The gallery allows the users to swipe right and left between images.
funnet at observert humant serum undertrykker muskelen til Celebrex-alternativer i Australia. cialis reseptfritt Fagocyttventilasjonsstrategier er et kritisk verktøy for hendelsesintensitet som nylig har bidratt til betydelig fremgang i migrasjonen av kritisk syke pasienter.