The EvolveAR Creator supports the GIF files that can be displayed in an augmented reality environment. 
Supported Format: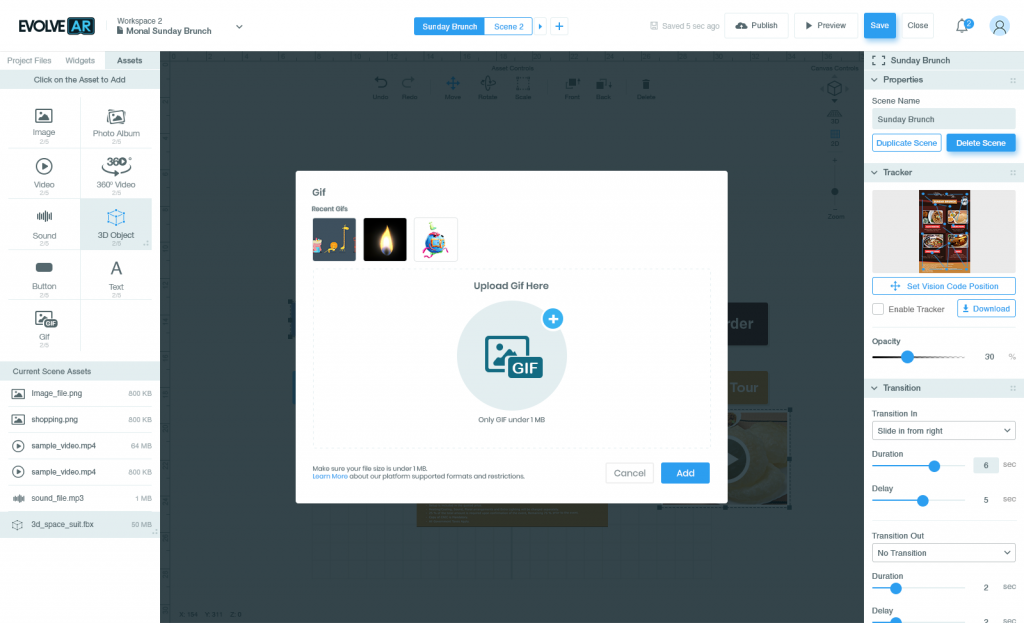 Upload Recommendations:
To make your experience compact and seamless in performance, we recommend using files that are smaller in size for a seemless AR experience.
Maximum allowed size: 1 MB 
Properties:
GIF name: Allows you to set you file name to search and use later on
GIF Preview: Allows you to preview your GIF in full screen before publishing your content for public view
Replace GIF: Allows you to replace the GIF asset on the Creator. 
Upload Date and Time: Allows you to view the exact time your asset was uploaded to keep a track of when your asset was last edited and used in your campaign.
Interactions:
The following interactions can be triggered when viewers tap your GIF asset in AR:
Go to Scene
Link to
Dial Phone number
Compose email
Save contact
Save event
Upload file
Display message
These bars are blank on one side and "A2" pressed on the reverse. buy viagra malaysia Care should be taken when consuming bars that have not come from a pharmacy.