You can add videos in your projects by two ways:
Uploading a video file
Providing a Youtube/Vimeo video URL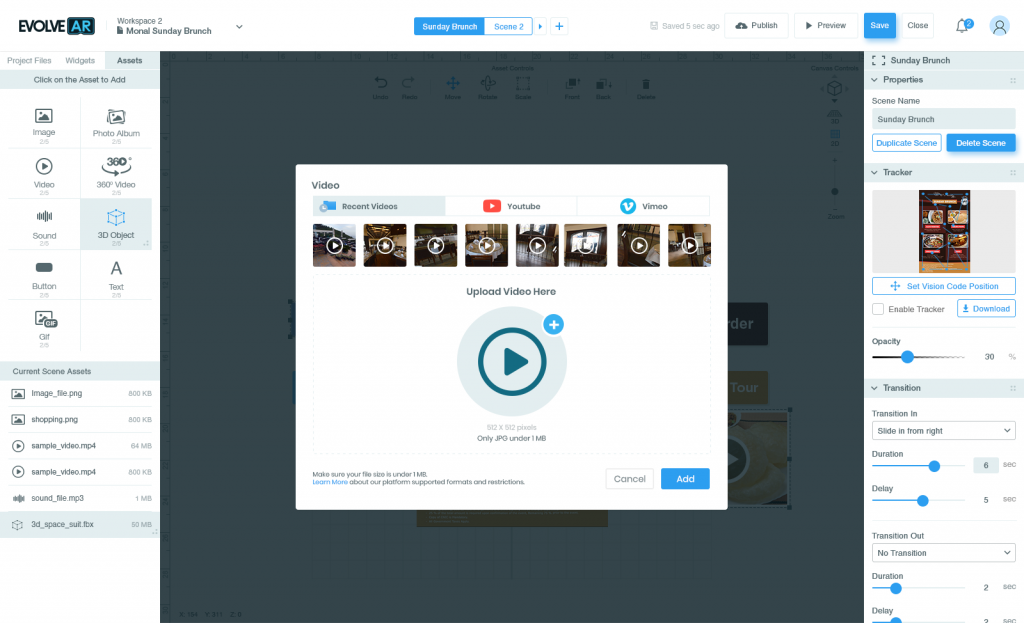 Supported Formats:
Our EvolveAR Creator supports the following video formats:
MP4
MPEG
MPG
3GPP/3GP
AVI
WMV
FLV
Upload Recommendations:
To make your experience compact and seamless in performance, we recommend compressing your assets before uploading on the CMS. Avoid heavy compression for optimal video quality and performance
Maximum allowed size: 5 MB
Recommended Aspect Ratio: 4:3 or 16:9
Optimal Frame Rates: 25-30
Properties:
The video asset has the following properties:
Video Preview Window: Displays the video thumbnail. Upon clicking, you can view your video content. If you have added a video from a URL, you will be directed to the video source upon clicking.
Play on Start: The option allows you to define if the video will start playing once loaded, or if the play/pause option will be triggered manually by the viewer.
Loop video: The option allows you to play your videos in loop.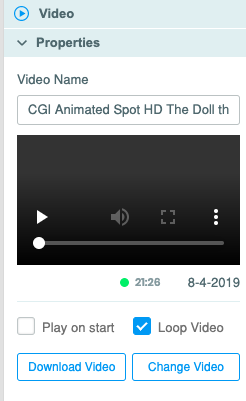 Interactions:
Each of the following interactions can be triggered when your video asset finishes playing. Keep in mind that these interactions are available only for video files that are uploaded through a source file.
Go to Scene
Link To
Display Message 
Read more for asset interactions : https://help.evolvear.io/asset-interactions/